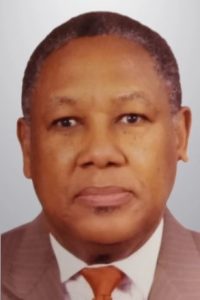 Professor Valentino M. Lema is a Professor of Obstetrics and Gynaecology. He held various positions such as Principal of Medical Training Colleges ( Mwanza and Machame) in Tanzania, Head department of OB/GYN College of Medicine Malawi, Regional Medical Director, FHI Africa Region.
He has undertaken, participated and supervised numerous research studies on various reproductive health subjects such as adolescent health; FP; PAC; STI's; HIV/AIDS; Maternal health, Malaria in pregnancy, among others.
He has published over 70 manuscripts in peer-reviewed journals, and four book chapters.
Professor Lema is involved in numerous consultancies with National Health Sectors and Regional Organisations in SSA; International Reproductive Health Organisations and UN Agencies on various SRH issues, such abortion and postabortion care, family planning and contraception, Maternal and newborn care, strategic health plans, reproductive health policies, adolescent sexual and reproductive health, health programming, etc.
His key areas of professional interest are Adolescent Sexual and Reproductive Health – (Undertook some of the pioneer research, clinical and advocacy work in SSA) Maternal, Newborn and Child Health, Family Planning, Sexual Health and Health Programme Development, Monitoring and Evaluation (SRHR).
He served as ECSACOG Chair of Education, Scientific and Research Committee from inception 2017 to 2021 and he is currently the Vice President of the ECSACOG since 2021.