The College of Obstetrics and Gynecology of East Central and Southern Africa
At ECSACOG, we are dedicated to transforming healthcare in East, Central, and Southern Africa by training specialist obstetricians and gynecologists. We are a collegiate training institution with a profound mission to elevate healthcare standards in the region and address the unique reproductive and sexual health needs of our population.
Established on September 27, 2017, in Kigali, Rwanda, ECSACOG was born out of the visionary resolution of the ECSA Health Community Conference of Health Ministers. This resolution aimed to localize the training of health specialists, leading to the inception of ECSACOG. Since our founding, we have been committed to building regional capacity in obstetrics and gynecology, improving the quality of care, and increasing the number of well-trained health professionals to serve those in need of specialized reproductive and sexual health services, including comprehensive abortion care (CAC) and contraception services.
To be a reference body for reproductive, maternal, newborn health (RMNH) in the region of East, Central and Southern Africa and beyond.
To be a lead organization for clinical excellence in reproductive health in the region of East, Central and Southern Africa and beyond, and a platform for shared experiences and skills transfer
ECSACOG currently operates in ten countries in the Sub-Saharan Africa region, including: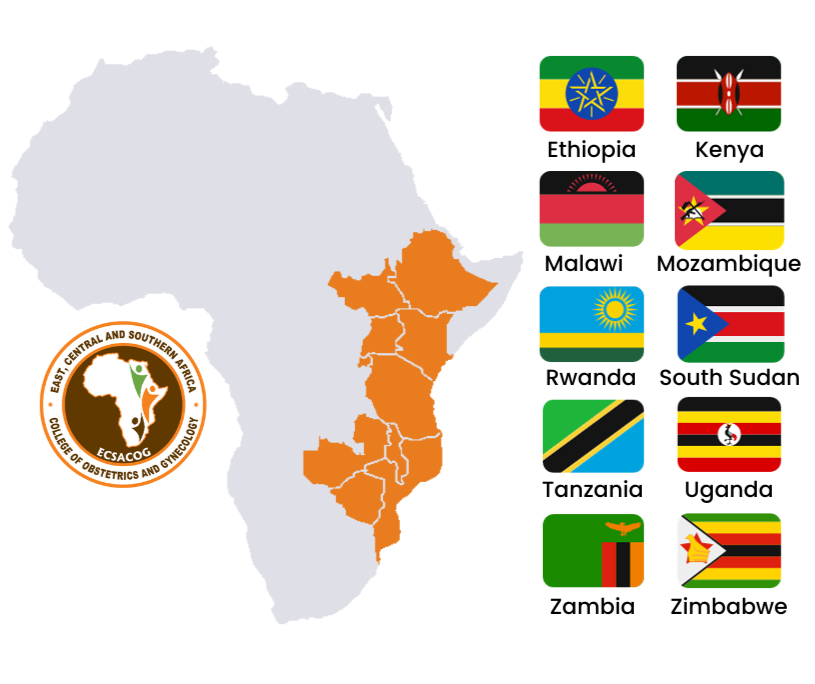 This widespread presence allows us to extend our training programs and expertise to various regions, addressing healthcare disparities and ensuring that quality care is accessible to all.
Our headquarters are located at the ECSA Health Community on Olorien Road, Njriro, Arusha, Tanzania. This central location serves as the heart of our operations, enabling us to coordinate training programs, research, and partnerships that strengthen the healthcare landscape throughout East, Central, and Southern Africa.