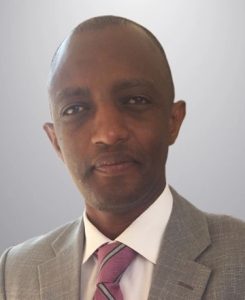 Chair of Education, Scientific and Research Committee
A Medical doctor specialized in Obstetrics & gynecology with PhD in public health focusing on Malaria and a clinical researcher with over 18 years of research experience in epidemiology, public health especially reproductive health and, a keen interest in health systems strengthening. Have conducted several research projects both in county and collaborative in multicenter projects.
Currently serving as a Clinician and Professor in the Department of Obstetrics and Gynecology, University of Rwanda, with other adjunct appointments at International Universities.
Founded and chaired the department of education and research at University Teaching hospital of Kigali, Founding fellow of East Central and Southern African College of obstetricians and gynecologists (ECSACOG).
Member of East African Community Health Research Commission (EAHRC) – Expert Working Group on Research and Capacity Development
Past President of Rwanda Medical Association, Current Board member of Rwanda Medical Council and Rwanda Medical Journal among others.
Have made significant contributions to peer-review journals with over 100 peer reviewed publications.
Championed and lead Reproductive health & Research Project that aimed at awareness of reproductive health among youth that was conducted among University campuses and some secondary schools aiming at education in reproductive health education, family planning and research to generate evidence in reproductive health.