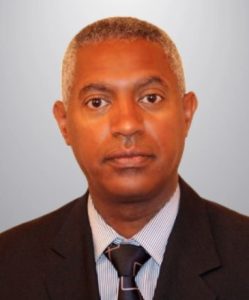 Professor Dereje Negussie
Professor Dereje Negussie is an Associate Professor and Consultant Obstetrician and Gynecologist with an MPH and post-graduate diploma in research methodology. He served as head Dep't of Obstetrics and Gynecology, Clinical service director for thirty referral and teaching hospital, senate member for Jimma University, President of Ethiopian Society of Obstetricians and Gynecologists (ESOG), editorial board member for Ethiopian Journal of Reproductive Health ( EJRH), executive board member and honorary treasurer for African Federation of Obstetricians and Gynecologists(AFOG) and board member of the international federation of Obstetrics and Gynecology(FIGO).
He is currently Vice Secretary General of ECSACOG and assistant editor-in chief of EJRH.
Professor Dereje has 16 publications in peer reviewed journal, 10 other publication (training materials, guidelines and reports) to his credit and has advised an number of postgraduate students on their thesis. Professor Dereje has lead a number of initiatives as PI : enhancing resident ship training and medical education, private and public mix in RMNCH services, national FP service Integration guideline, baseline survey on Cervical Cancer Screening and Preventive Treatment for MSIE, end line evaluation of BEmONC project for the Ethiopian Midwifery Association (EMwA) , and SRH project of University students.
Professor Dereje has been awarded certificate of merit for serving ESOG as a an executive board president for two terms, Certificate of appreciation from IPAS for long term service in Abortion care and RH, Certificate of appreciation from Harvard based Maternal Health taskforce and International Institute of Education for successfully mentoring a young maternal health champion.